The objects and purpose of this Local Union are to provide for, protect and improve the general welfare of its members and the employees represented by it, both directly and indirectly by all lawful means and methods.
Pre-Amble to the Constitution of the International Union of Bricklayers and Allied Craftworkers
(written in 1850)
Whereas, God has endowed all individuals with certain inalienable rights, among which are the right to life liberty and the pursuit of happiness; and,
Whereas, The trend of employers, assisted by combined capital, is to debase labor and deny its lawful and just share of what it produces; and,
Whereas, Experience has demonstrated the utility of concentrated effort in arriving at specific ends and it is an evident fact that if the dignity of labor is to be preserved it must be done by concentrated and united action; and
Whereas, We hold that all individuals are created free and equal, and that honor and merit make the man, and that self-preservation is the first law of nature, and that those who would be free must first strike the blow.
Therefore, be it resolved, That knowing and looking to the righteousness and justice of our cause, we solemnly bind ourselves (by our most sacred honor) into one union to, by all lawful and just means, better our social and financial condition, by each for all, and all for each, supporting each other by influence and finances in all just demands for a fair rate of compensation for our labor and for reasonable hours of work per day; and
Be it further resolved, That we recognize no rule of action or principle that would elevate wealth above industry, or the professional above the working man; that we recognize no distinction in society, except that based upon worth, usefulness and in good order, and no superiority except that granted by the great Architect or our existence; and, calling upon God to witness the rectitude of our intentions, we, the delegates here assembled, confirm and establish the following constitution.
As far back as the 19th Century, North American masonry workers have protected their wages and working conditions by forming unions and associations. In 1823, for example, journeymen stone cutters in New York City struck in support of the ten-hour work day, while masons in Troy, New York, went on strike in 1835 for higher wages. Craft unions became stronger in Canada during the 1850s as employers tried to dismantle the wage system and undermine workers standard of living.
Today's BAC was formed October 17, 1865, with John A. White, a member of the Baltimore local, serving as president. Since its founding, BAC members have created a proud legacy of fighting for good jobs and wages, better and safer working conditions, and dignity for every worker.
A severe economic depression in the 1870s wiped out all but nine unions. Displaying a resiliency that would come to characterize BAC, the union survived the decade intact.
In 1881, BAC became an international union with the admittance of locals representing workers from Hamilton and Toronto in Ontario, Canada. And in 1882, the Union took a stand against segregation by admitting locals representing the southern United States. The Union's acceptance of all masonry workers was formalized at the 1897 convention, in Worcester, Massachusetts. Delegates to the Convention agreed that membership in the Union should be open to all members of the mason craft . . . without condition as to servitude or race.
BAC was one of the first unions to support the eight-hour work day, which was a top legislative priority for delegates to the 1869 convention. By 1886 the nine-hour day had been put into effect in almost all large cities, as required by the Constitution, thanks in large part to the efforts of BAC members. In 1901 the battle for the eight-hour day was won. The eight-hour day became the rule for workers across North America.
William J. Bowen was elected BAC president in 1904. Under his leadership BAC's craft jurisdiction expanded. In 1917, for example, tilelayers became part of the Union. By 1928, when he left office, BAC's membership had grown to roughly 130,000 members. But the Great Depression took its toll. By 1933, the Union's membership dropped to 35,000.
Harry Bates became president of the union in 1935. He served until 1960, and was instrumental in expanding the Union's participation in the creation of national policy. Bates helped to pass the U.S. Housing Act of 1937, a nationwide program to develop low-cost housing for workers. He worked to make fair labor standards a part of defense policy, and negotiated to ensure that 95 percent of defense construction would be performed with union members. Bates also participated in the development of the Seabees, the Construction Battalion of the U.S. Navy, and chaired the convention that voted to merge the American Federation of Labor and the Congress of Industrial Unions to form the AFL-CIO.
By the 1950s, BAC's membership included bricklayers, stone and marble masons, cement masons, plasterers, tile layers, terrazzo and mosaic workers, pointers, cleaners and caulkers. By 1960 the Union had grown to 156,000 members reflecting broader craft jurisdiction and new work opportunities.
New materials were introduced in the 1960s and 1970s, and work shifted to areas that had traditionally been non-union. In response, BAC took three important steps:
* The International Masonry Institute (IMI) was established as a labor-management trust fund to promote the unionized masonry industry, apprenticeship training, research and development and labor management relations.
* New departments were created to address collective bargaining, communications, education, organizing and trade jurisdiction.
* The International Pension Fund, and BACPAC, BAC's political action committee, were created.
The Union's name was changed to the International Union of Bricklayers and Allied Craftsmen in 1975, and in 1979, John T. Joyce, the International's Secretary-Treasurer became president.
In the early 1980s, poor economic conditions in the Canadian and U.S. construction industries, competing materials, non-union competition and a general deterioration in the political and legal climate for the labor movement caused BAC's membership to drop again. The Project 2000 Committee was formed as a result of these challenges, and in 1985 the group presented a plan designed to ensure the Union's survival as an independent masonry union. Using the committee's plan as a blueprint, many improvements have been made to the union's structure and operations. They include:
* Establishment of ten regions; formation of an executive council with elected representatives from each region; creation of regional councils; and merging of smaller locals into larger locals.
* Educational programs for local leaders and members. – New ways to communicate with members, such as chapter meetings, the Internet, and member surveys.
* New benefit programs, including the International Health Fund, BACSave-a Retirement Savings Plan Annuity and a 401(k) plan, and BACFlex-a flexible benefit program.
* Creation of the Job Information Center.
* More outreach to women and minorities; a name change in 1995 to the International Union of Bricklayers and Allied Craftworkers; and passage of a resolution in 1995 requiring gender-neutral language in union documents.
* Establishment of craft committees and craft directors for the allied crafts. – Creation of the Membership Services Program and the Member Assistance Program.
* Increased emphasis on safety.
In September 2000, the delegates to the BAC Convention again made history when they voted unanimously to amend the IU Constitution and establish a new Canadian representative body, the Canadian Congress. The Congress meets twice a year, with the principal officers of eligible Local Unions serving as delegates on a rotating basis for two-year terms.
BAC has survived despite recessions, depressions, and political climates that have not always been hospitable to organized labor. BAC continues to provide its members with superior services and representation. Your membership in BAC makes you an important part of that proud history.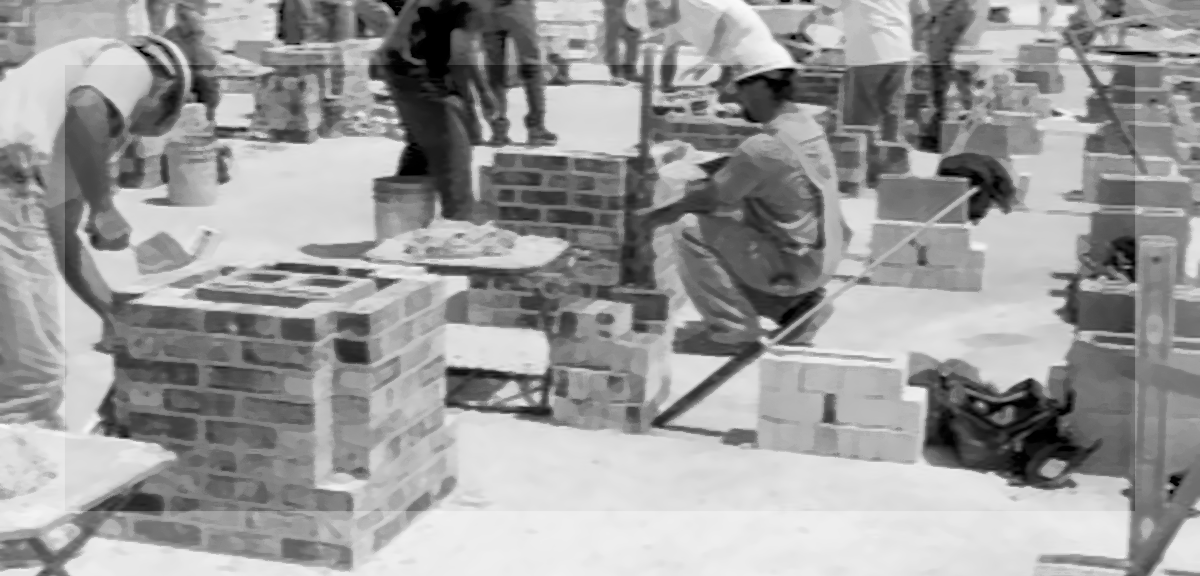 Description of Different Crafts
Brick
The work performed or traditionally performed by the Bricklayer/ Stonemason includes all forms of construction, maintenance, repair and renovation utilizing natural or artificial brick, stone, concrete block, concrete panels, exterior marble, precast masonry, terra cotta, glass block, cork, refractory materials, the installation of all forms and types of masonry panels including on site fabrication, all washing down, cleaning, water blasting or sand blasting of brick or stone work, all integral elements of masonry construction and all forms of substitute materials or building systems.
The removal, replacement, repair, or in-place restoration of all materials listed above.
The maintenance and repair of existing structures performed in the refractory industry, i.e. existing stacks, furnaces, glass tanks, boilers in refineries, ships, industrial plants and cement plants.
All welding of pre-cast panels, concrete, exterior marble, granite, limestone, or other masonry materials, or masonry materials encased in metal frames, whether or not pre-assembled shall be done by members of the International Union of Bricklayers and Allied Craftsmen.
The installation, removal, setting and restoration of brick, cement block, concrete masonry units and all artificial stone or natural stone, brick paving, dry stack retaining walls and all prefabricated slabs regardless of size, either interior or exterior, where used for the backing up of exterior walls, the building of party walls, columns, girders, beams, floors, stairs and arches and all materials substituted for the clay or natural stone products shall be within the trade jurisdiction covered by this Agreement.
All reinforcing steel placed in masonry construction such as brick, block, stone, refractory anchoring systems and fireproofing material for furnaces, heaters, boilers, stacks, ducts and structures including beams, columns and vessel skirts shall be work covered by this Agreement.
Tile
Tile Layer Work includes the laying, cutting or setting of all tile where used for floors, walls, ceilings, walks, promenade roofs, exterior veneers, stair treads, stair risers, facing, hearths, fireplaces, and decorative inserts, together with any marble plinths, thresholds or window stools used in connection with any tile work; also to prepare and set all concrete, cement, brickwork or other foundations or material that may be required to properly set and complete such work.
The cutting of all tile by machinery or tools on the job site.
The application of a coat or coats of mortar, prepared to proper tolerance to receive tile on floors, walls and ceilings, regardless of whether the mortar coat is wet or dry at the time the tile is applied to it.
The setting of all tile with mortar, asphalt and/or sand where the bed is floated, screeded, slabbed or buttered.
The setting of all tile by the adhesion method with organic and/or inorganic thin-bed bonding materials where such bonding material is applied to the backing surface and/or the back of tile units or sheets of tile.
The rough-in, floating, screeding, beating, rubbing and finishing of all tile work, including the setting of all fixtures, rods, accessories, cap and tile, including all other preparatory work required to complete all the installations.
The installation of waterproofing membranes, accessories, and the insertion of decorative tile inserts in other materials.
The setting, sealing and installation of prefabricated tile systems.
Tile Finisher Work includes mixing mortar, cleaning and grouting all tiles set by the Tile Layer, handling all sand, cement, lime, tile and other materials and all chemicals that may be used in tile installation after being delivered to the job.
Tile as used above is defined as the following products: All burned clay products as used in the tile industry, either glazed or unglazed. All composition materials, marble or other stone tiles, glass, mosaics and all substitute materials for tile made in tile-like units. All mixtures in tile-like forms of cement, metals, plastics and other materials, that are made and intended for use as a finished floor, surface, stair treads, promenade roofs, walks, ceilings, swimming pools and all places where tile is used to form a finished interior or exterior surface for practical use, sanitary finish or decorative purposes.
Pointer Cleaner Caulker / Restoration Mason
Restoration Masons are responsible for washing down, cleaning, caulking, pointing and weatherproofing of brick, stone or marble work shall be performed by bricklayers, stone masons and tuckpointers including caulking and cleaning of all types of masonry (including precast masonry and concrete panels) and caulking of all window frames encased in brick, stone, concrete or other masonry. Additionally, they will be grinding and cutting out of brick, stone, marble, or other masonry joints and replacing of joints only, and sand blasting and steam cleaning is included. They handle various types of mastics, plastics, epoxies, thiokols, silicone and all clear weatherproofing and waterproofing materials used in pointing, cleaning, weatherproofing and waterproofing and expansion joints of all types of construction, such as the following: Concrete, Brick, Concrete Block, Marble, Stone, Tile, Precast Concrete, Glass Fiber Reinforced Concrete, Exterior Insulated Finish System, Plaster, Wood, Metal Windows, Storefronts, Curtain Wall, Glass Blocks, Hollow Metal, and Fire Caulking.
Various epoxy work would include all epoxy injection, epoxy grouting, epoxy coatings, and epoxy sealants. The assembly and hanging of all types of hanging platforms, baskets, boatswains chairs etc., including: setting up guard rails, electric motors, wire rope cable, rope falls, electric cables and other miscellaneous swing staging equipment. Installation of C-hooks, out riggers, beams, counter weights, parapet clamps and the like. All rigging and safety tie back., Installation of lifelines and other fall arrest procedures and equipment. all moving and relocation of power suspended platform equipment. Operation of man-lifts and other hydraulic scaffolding and aerial lifts. This agreement shall cover all products or new systems relating to the aforementioned hanging or aerial equipment
Building inspections and survey, chemical cleaning, water blasting, steam cleaning, other types of power washing and hand cleaning. Dry cleaning, sand blasting, power cleaning with limestone dust and crushed glass, etc. Installation and operation of all systems that collect any material after use. Paint stripping, chemical or mechanical. Cutting out joints by power or by hand method, mixing mortars, pointing repointing, scrub, Manchester grouting, striping, drilling, pinning, anchoring masonry material. Selective captured demolition for replacement with same or like material, rebuilding of masonry, cutting of steel and welding operations. Brick and stone replacement-Dutchman, torch cutting and welding as related to masonry repairs, shelf angle and Lintel replacement, flashing and anchoring epoxy anchoring. Brick and stone patching – including all preparatory work, chipping, sawing, clean-up and coating. Masonry and concrete chimney and smoke stack repair, terra cotta repairs and replacement, toothing of brick and stone, application of clear repellent waterproofing, application of cement base or acrylic coating. Mold making and fabrication of specialty masonry and stone items. Installation of fiberglass, plastic gypsum, reinforced concrete and vinyl substitutes, operating chipping guns or hammers, electric power tools and other equipment necessary.
Application of carbon fiber, epoxy fabric wrap and banding systems for the restoration and retrofit on concrete or masonry.
Marble
Marble Masons work includes the installation, erection and all cutting in connection with the setting of all interior and exterior marbles, granites, limestone, sandstone, slate, scaglioca, opaque glass, vitrolite, albereen, saniongx, all artificial, imitation, cast marble, cast concrete panels of whatever thickness or dimension including such materials manufactured by foreign and domestic producers, including all polish, honed, flame, sand finished materials as well as all iron, stainless steel accessories in the connection of such materials, included is the laying of all Granites, Limestone, Sandstone, all Natural Stone, Clay Products, Cultured Marble and Granite or any other pre-made materials that resemble stone (counter tops, walls, and panels) regardless of dimension size (zodiac stone, ceasar stone, sile stone, cambria, tetrastone, pep stone, techno stone, river stone, techni stone, retro 2000 stone and bergamo stone SRL). Also marble, tile, slate tile, terrazo tile, limestone tile, and limestone, marble, granite veneer on honeycomb panels and cobblestones. This shall apply to the interior and exterior walls, floors, ceiling, walks, promenade roofs, stairs, facings, hearths, fireplaces, showers, thresholds and anything customarily called "stone" in the trade. All vanity tops, kitchen counters, security, desks, windowsills or other stone installed tops are covered by this agreement.
All stone veneers to unlimited thickness on jobs classed as one story fronts is the work of the marble masons and marble masons wages shall be paid and working conditions (Article X) applied according to this agreement. Also the hanging and rigging of all pre-cast concrete and stone panel systems including the welding and erection of such systems.
The installation of all floors unlimited thickness with setting procures of thin set, epoxy; fat mud and/or dry packs will be covered under this agreement.
All panel systems, mechanical system and back up iron will be the work of marble masons and welders will be paid under marble mason wage rate.
Shopworker's work refers to that traditionally performed by Polishers, Stickers, Sawyers, Machine Technicians (all machines and equipment used in the fabrication of all stones, marbles and granites).
Marble Finisher's work includes mixing of all mortar, rubbing and grinding, cleaning, washing, grouting and pointing up of all marble installed by the Marble Setter, handling of all sand, cement, marble or stone and any and all materials that may be used by a Marble Setter.
When a Marble Setter goes on a job where there is sufficient work for a Marble Setter and Marble Finisher, the Marble Setter shall be accompanied by a Marble Finisher.
Refractory Bricklayers
Refractory Bricklayers occupy a unique niche in the trowel trades.Specializing in this aspect of bricklaying, you will be working at Petroleum Refineries, Power Plants, Chemical Plants, Glass Furnaces,Kilns, and many other locations where high temperatures and extreme environments are prevalent.Commonly referred to as "firebrick," the myriad of materials used in various sizes and shapes has little in common with what is used in standard "outside" construction. Historically, these applications have been brick, so bricklayers continue to perform this work.A sound base in bricklaying will be required as you may be called upon to do brickwork involving compound miters, arches, domes and transitions.With the advent of new materials and application techniques, the refractory bricklayer may be required to posses many other skills other than bricklaying. Welding anchors, forming and pouring, pneumatic ramming of plastic materials and guniting are also integral parts of the refractory trade. Due to the nature of this trade, projects can involve long hours such as 7 days a week, 12 hours shifts ( 7/12's). The title," Refractory Specialist", can be a rewarding and lucrative career for the individuals who are willing to commit themselves to this lifestyle.