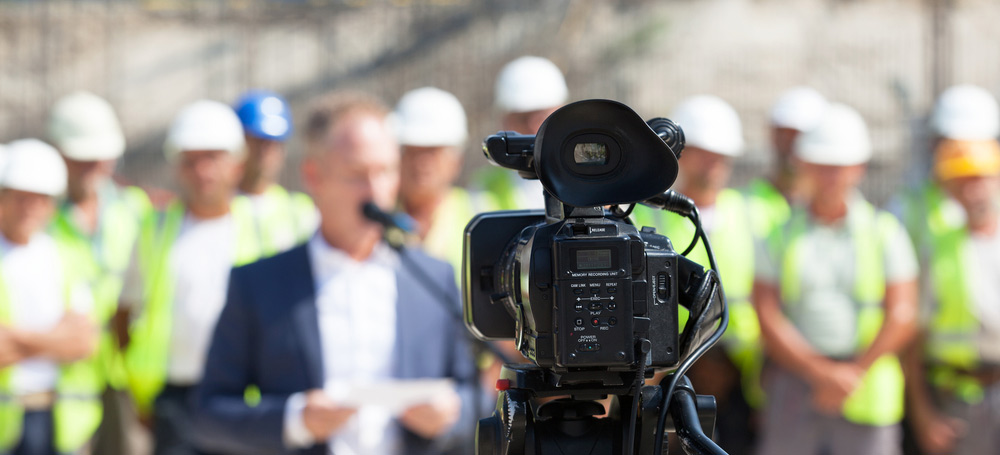 From the Desk of Troy Garland:
BAC Local is the proud recipient of three 2022 BAC Craft Awards. This is the most awarded to any Local Union across the Nation. Since 1986 the BAC International Union Craft Awards Program has saluted Local Unions and workers for excellence in the trowel trades and distinguished service to their Local Unions and communities. Retired Vice Chairman and Field Representative Steve Kantoniemi submitted all three entries in 2020 prior to his retirement. The awards were delayed until 2022 due to the pandemic. I would like to thank Steve for his hard work and getting a trifecta!!!
BEST TERRAZZO PROJECT / TRANSBAY SALES FORCE TRANSIT CENTER / ASSOCITATED TERRAZZO
Over ten years in the making, this terminal's 24,0000 square foot Grand Hall houses an exceptionally intricate public art installation in terrazzo. Sixteen colors and 375 waterjet-cut elements of brass and zinc form the "Secret Garden" design with a collection of hummingbirds, poppies, brass insects, and abstract shapes. 111 insects all made of water-jet brass. 15 waterjet cut zinc "Japanese Clouds" and 248 sets of waterjet cut zinc "Diamond Dots." The waterjet pieces required a much more skilled labor force when it came to the grinding process throughout the entire terrazzo flooring. The design beautifully complements the scale and architectural elements of the space.
The terrazzo was installed on a concrete topping slab that contains a radiant flooring system over several inches of rigid foam insulation.  Besides the Grand Hall installation, another 6,000 square-feet of single-color epoxy terrazzo flooring was installed in five different areas of the building at the same time, including five staircases of precast terrazzo and 11 elevator cab floors. When installers were asked to expedite the six-month installation schedule, they trimmed a month off and increased the quality of the bent divider strip patterns by pre-fabricating the divider strips on panels, many as large as 11×17 feet, aligned on the construction site. This exquisite terrazzo project will be enjoyed by millions as the Salesforce Transit Center is a landmark for the San Francisco Bay Area.
BEST RAIN SCREEN PROJECT / NEW HAYWARD LIBRARY COMMUNITY LEARNING CENTER / CLEVELAND MARBLE
The City of Hayward is proud of their modern 21st Century Library and Community Learning Center as one of the largest net-zero energy public buildings in the country. The three-story, 58,000-square foot building is setting the new standard in environmental sustainability.  In addition to being 100-percent energy self-sufficient and carbon-free, it will conserve drinking water by capturing, filtering and storing rainwater for non-potable uses such as flushing toilets and irrigation.
This $60 million project suffered a series of construction delays for nearly two years.  These prolonged delays through no fault of Cleveland Marble, created numerous setbacks and multiple mobilizations and project dysfunction. This included, incorrect drawings and incorrectly placed concrete, benchmarks and grid marks. Cleveland Marble was asked to assist, and Local 3 members stepped up to the challenge despite the obstacles. BAC members performed a whole new survey and established its own benchmarks and gridlines coordinating with other trades to get the project back on track. BAC members installed 30,000 square feet of impeccably installed terra cotta on the exterior and numerous columns on the interior with 1/16-inch joints. The backup system was challenging due to numerous different hardware components. With a façade this expansive, the tolerances needed to be flawless to not show any shadowing or imperfections. The mitered corners were installed to 1/16 of an inch to create a tight clean corner for the entire height of the building. The facade included a one-of-a-kind terracotta sunscreen baguette louver system that highlighted the structure. The terracotta rainscreen installed by BAC members is what makes this an exceptional building.
OUTSTANDING BAC CRAFTSMANSHIP / RANDY OLIVEIRA
Brother Randy Oliveira has been a BAC Local 3 member for the past 37 years. For over 3 decades he has been well renowned as one of the very best Master Marble / Stone Mason's for Local 3. He has worked as project superintendent for BAC contractors, Italian Marble Co. and Cleveland Marble Mosaic Co. Brother Oliveira has run projects such as, McCarron Airport (Largest Rain Screen Project in the country Approx. 200,000 Sq. feet): Bing Concert Hall, Stanford University,: Gallo Winery Headquarters, Modesto CA.,: Waldorf Astoria, Beverly Hills CA.,: New Hayward Library Community Learning Center, Hayward CA., (one of the California's largest self-sustaining buildings),: Sufism Reoriented, Lafayette CA., (this project recently won Best Marble Project ).  Throughout his years as a foreman / superintendent, brother Oliveira has shown outstanding Leadership, Training and Mentorship to many Apprentices as well as JM Marble Masons. Being nominated and awarded the Outstanding BAC Craftsmanship Award is a Great Honor and Privilege, and we feel that brother Oliveira is more than deserving of such a Tribute and Honor.
Recently Brother Oliveira was diagnosed with a rare vision/blindness disorder and was declared legal blind and forced into early retirement. This was a great loss to the Marble Trade and Industry as well as BAC 3 and our membership. Mr. Oliveira's well roundedness, positive attitude, ability to lead and mentor will truly be missed. Brother Oliveira represents the very Best Hands in Business for BAC Local 3.
As the best-trained, mostly highly skilled masonry workers in North America, BAC members take great pride in the enduring quality, endless variety, and beauty of masonry construction. The BAC Craft Awards share that sense of pride and accomplishment with BAC families, our communities, and with the Union contractors and design professionals with whom we work. The members of Local 3 Northern California prove again that we are the Best Hands in the Business.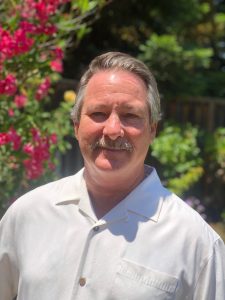 Randy Oliveira, was awarded the 2022 BAC Craftsmanship Award!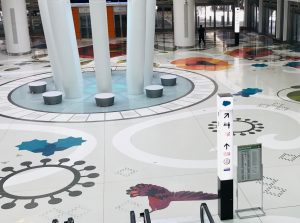 the Transbay Salesforce Transit Center's Grand!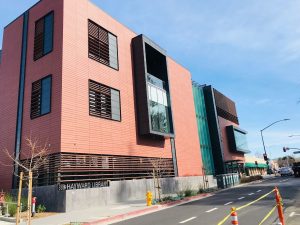 Hayward 21st Century Library!