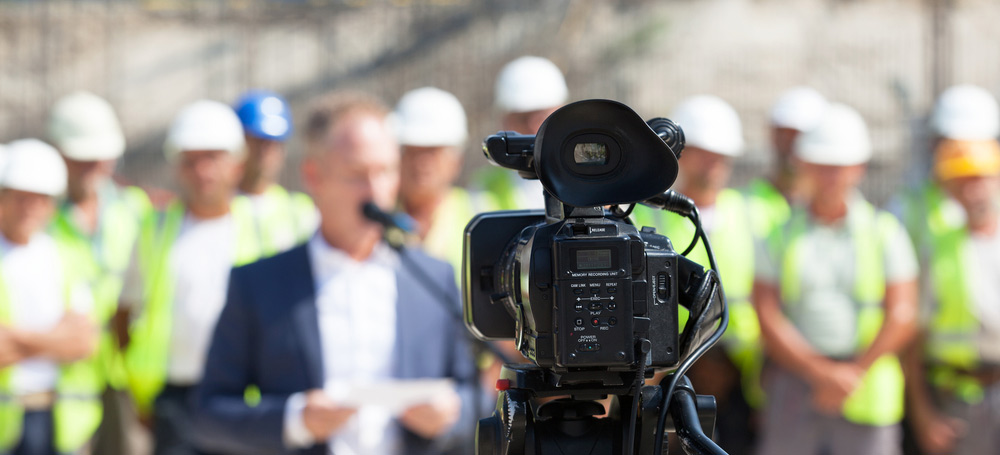 From the Desk of Troy Garland,
We are proud to announce that BAC has hired Ryan Ruf as our new Organizer for our masonry trades; Brick, Marble, PCC, and Terrazzo. Ryan started on April 1st. He is a bricklayer by trade and has been a member for over 14 years. By attending Chapter meetings, BAC COMET, journeymen upgrade and our Volunteer Organizing Committee meetings, he stood out as a great candidate for the job.  He also recently attended the Historic Masonry Restoration Certification Course in Bowie Maryland at the National Training Center. Ryan has been teaming up with our Organizer Dave Tafoya and Field Representatives to learn the ropes and is already signed up for the Building Trades Academy Couse on Strategic Planning for Organizing. There will be a lot to learn, but Ryan has already proved to be confident and eager to learn. We are certain that he will be successful in organizing new contractors and members. Ryan is shown pictured with the crew of his last employer E&S Masonry. Welcome aboard Ryan.
The CA Legislative conference in Sacramento, which is attended by Building Trades unions and other AFL-CIO unions to ensure that our legislators understand what Labor's issues are for 2019. I attended a Legislative session for the Alameda, Contra Costa and Napa/Solano Building Trades, while Gary Peifer and Dave Tafoya represented BAC in other areas. Other Building Trades Delegates and I heard from Nancy Skinner, Tim Grayson, Bob Wieckowski, Buffy Wicks, Bill Dodd, Bill Quirk, Rebecca Bauer-Kahann and other labor friendly State Assembly Members and Senators. Many of these politicians have a 100% voting record for Labor. There are many issues that are high in importance, but one of the most critical issues are the numerous bills currently working their way through the legislature regarding affordable housing, transportation and construction related issues. These bills will be important to the Building Trades by creating jobs and protecting our wages and benefits. Many of these new bills will include "Skilled and Trained Workforce" language. This language is already in AB 566, AB 1358 and others, which requires that 30% of the journeyworkers in our trades on certain projects have graduated from an approved apprenticeship program. While this language is helpful in securing work for our signatory contractors, it has already created some issues, as some of our contractors are having trouble meeting the 30% requirement. It is imperative that we do our best along with the other trades to meet these requirements, especially due to more bills that will include "Skilled and Trained" language.
 If you are an apprentice, make sure you complete the program and get certified. This will make you more valuable to all our contractors. If you have a certificate, make copies and keep the original certificate in a safe place. For members who graduated and have misplaced their certificate, there are a few ways to get proof of completion shown below. If you have completed the program sometime after 1994, you can get an apprentice certification letter on the Department of Industrial Relations. (DIR) website. (http://www.dir.ca.gov/das/appcertpw/AppCertSearch.asp) If you graduated earlier than around 1995, you will need to request your certificate in writing following the instruction below. If you are an uncertified journeyperson, you have the option to go back into the apprenticeship program for approximately 6 months to get certified. While this will not work for all our members, it may be worth the time to get certified.  
If the former apprentice's records fail to show up on the DAS website (as directed above), the former apprentice (not a third party or employer) can submit a written request to DAS Head Quarters, Record Unit, 1515 Clay St, 3rd floor, Suite 301, Oakland, CA 94612. Request a manual search of the DAS archives.  The written request should include all of the following information in order to make a thorough manual search of the record archives:
Full Name
Full Social Security Number
Full Address
Phone Number/E-mail address
Date of Completion
Occupation
Apprenticeship Committee Name (if available)
If the former apprentice's records are found in the archive, DAS will issue a letter indicating that the person in question successfully completed a State registered apprenticeship, identify the occupation and the date of completion.
If the former apprentice's records are not found in the manual search, DAS will not be able to issue any confirmation that that person complete a state registered apprenticeship program.  The former apprentice should attempt to contact the apprenticeship program they graduated from to see if they may have some record of their completion.
Please do not hesitate to contact the Union Hall for assistance regarding your certificate.